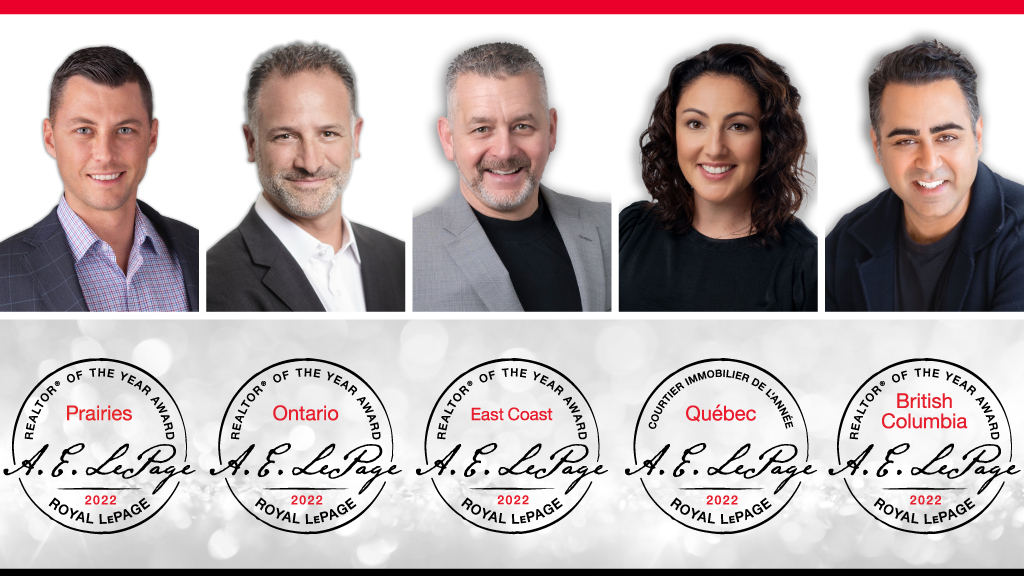 Winners of the Royal LePage A.E. LePage REALTOR® of the Year Award are recognized for their outstanding accomplishments as great Royal LePage REALTORS®, based on productivity, leadership, community and Shelter Foundation involvement, and their commitment to the Royal LePage brand and its suite of services.
The Royal LePage A.E. LePage REALTOR® of the Year Award recognizes a winner in each region across the country and every September, the national winner is announced! This year, our 2022 national winner will be announced at the Royal LePage Headstart Conference this September!
Get to know more about the regional winners, who are all in the running for national recognition:
Prairies
Royce Finley, REALTOR®
Royal LePage Prime Real Estate
Royce Finley is a well-respected sales professional and a true ambassador of the Royal LePage brand. He consistently strives to go above and beyond for both his colleagues and clients. He is dedicated to maintaining strong relationships with those he works with, and continuously offers support and advice to anyone who may need it.
Royce's commitment to giving back to his community is a true testament to his generous character. A strong supporter of the Royal LePage Shelter Foundation as a Commission Donor, Royce has raised significant funds for the cause and encourages others to donate where they can, and has participated in numerous fundraising events and initiatives in support of local women's shelters.
His passion for the industry and his dedication to his clients, community and colleagues is what sets Royce apart as a real estate professional.
Ontario
Shawn Zigelstein, Broker
Royal LePage Your Community Realty, Brokerage
Shawn Zigelstein is an unwavering advocate of the Royal LePage brand, who fully immerses himself in the culture of the company. He is known amongst his peers as being reliable, professional and always prepared. He consistently demonstrates a passion for his work, and a commitment to providing the highest quality of service to clients, going above and beyond to help them meet their real estate goals.
As a strong ambassador of the Royal LePage brand, Shawn offers his expertise as a trusted real estate professional, acting as a spokesperson for the brand with appearances on television, radio, print and social media. He makes time to share advice and best practices with fellow Royal LePagers by participating in speaking engagements at Royal LePage events and kickoff meetings.
Shawn's dedication to his clients and colleagues goes beyond professional expertise and guidance. He is deeply involved in his community, taking part in charitable efforts and community events. As a strong supporter of the Royal LePage Shelter Foundation, Shawn is always up for an adventure, having participated in previous Challenge for Shelter Treks in Iceland and the Sahara, and is currently fundraising for the 2023 Challenge for Shelter Trek happening this November in Ecuador.
A consistent top producer and National Chairman's Club Lifetime member, Shawn is a standout real estate professional and a true leader who embodies the character traits and values that Royal LePage stands for.
East Coast
Tim Somerville, Sales Associate
Royal LePage Atlantic
Tim Somerville is a strong advocate of the Royal LePage brand and someone who goes above and beyond for his community.
No matter the size, Tim consistently participates in all Royal LePage conferences and events, while still making time for local associations and initiatives. He goes out of his way to represent Royal LePage in all aspects of his role, from speeches to charity work.
Fully embodying the brand spirit of "Helping you is what we do.®", Tim does not hesitate to jump in and lend his support when needed. Whether it be making new agents feel welcome in the office, or being the first to pick up the phone and offer guidance, he extends his kindness to the business and beyond. Tim is also a dedicated supporter of the Shelter Foundation, raising thousands of dollars in donations for the foundation. He is always thinking about new and creative ways to include the Shelter Foundation in everything that he does.
Tim's drive to achieve excellence, innovation and success is what makes him an outstanding real estate professional. Thanks to his historic donation at auction to the Shelter Foundation, he is also the proud owner of the Shelter's faux fur coat!
Quebec
Diana Campbell, Residential and Commercial Real Estate Broker
Royal LePage Village
Diana Campbell is an unwavering advocate of the Royal LePage brand, who goes above and beyond for her community and is fully immersed in the Royal LePage culture and company. She began her career in 2006, finding a passion for real estate when she purchased her first property. Her dedication to the industry has allowed her to become an award-winning top producer, and led her to launch her own team, a natural step for her as she is a positive leader.
Diana is a longstanding and generous member of the Commission Donor family and has raised thousands of dollars in support of her local women's shelters through her participation in two of the Challenge for Shelter treks, and will be participating in this year's challenge in Ecuador.
A strong brand ambassador, Diana has always taken part in the company's events, which have allowed her to nurture valuable relationships with everyone she meets across the Royal LePage network, both locally and nationally.
More recently, Diana has acted as a media spokesperson for the brand's market reports. She truly embodies all of Royal LePage's core values.
British Columbia
Adil Dinani, PREC
Royal LePage West Real Estate Services
Adil Dinani is a well-respected real estate team leader and professional, who is dedicated to the industry, and his colleagues and clients. He consistently puts his clients' needs first, delivering the highest quality of service to those he works with.
Acting as an ambassador for the Royal LePage brand, Adil offers his expertise as a spokesperson with regular appearances on various media channels. He provides helpful commentary on real estate trends, offering tremendous value to Canadian consumers. He has also participated in numerous industry events.
Adil is a community-oriented individual, offering support to families in need within the community he serves, and has given generously to the Royal LePage Shelter Foundation.
Adil is an accomplished real estate professional and a consistent top producer, earning him a spot as a National Chairman's Club member since 2016.
For more information about the Royal LePage Sales Awards & Recognition program, please visit: rlp.ca/awards.