ChatGPT, a new artificial intelligence tool that can create everything from listing descriptions to legal documents, is being embraced by real estate professionals all over the world. Here's what you need to know about the technology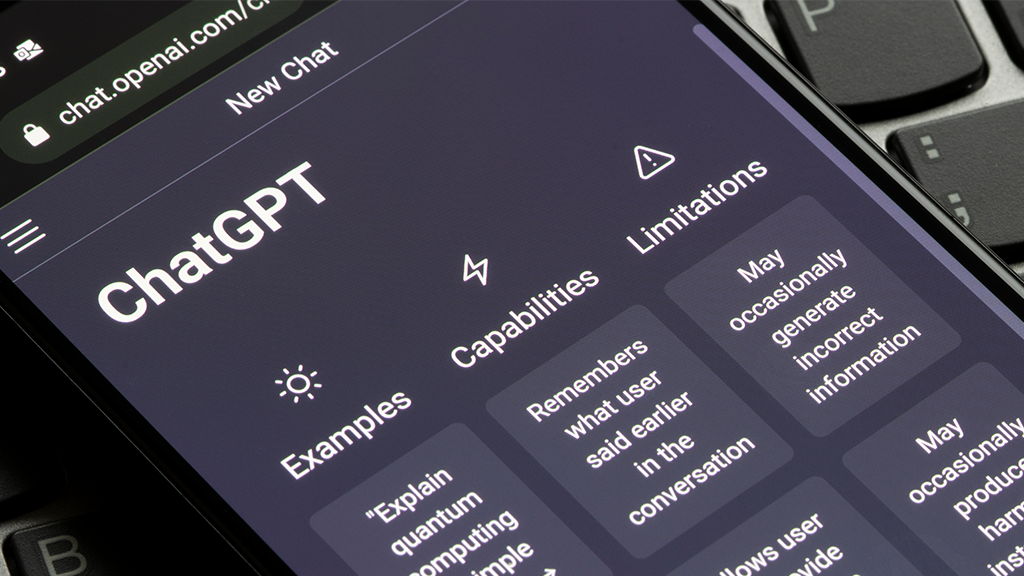 "Join us for an unforgettable open house experience at this luxurious 3-bedroom, 2-bathroom estate. Located in a prime location with easy access to shopping, prestigious schools, and convenient transportation, this property is the epitome of luxury living. Don't miss this chance to see this exceptional property in person."
Can you believe this open house ad was written in less than five seconds?
No, this isn't the work of a marketing specialist. This descriptive listing was created by an artificial intelligence (AI) tool known as ChatGPT.
ChatGPT, developed by tech company OpenAI, is a chatbot capable of generating human-like text based on the prompts it's given. The tool has the capability to write original essays, song lyrics and research papers. It has even passed exams from the world's top business and law schools—though not with particularly high scores.
The tool has earned the attention of real estate professionals worldwide, some of whom claim ChatGPT has the ability to revolutionize the business. Here's what you need to know about the technology:
What is ChatGPT and why is it different?
Chatbots and AI tools have been around for decades. In fact, chatbots for real estate websites are very common—you may already be utilizing one on your website for lead generation.
One of the key features that sets ChatGPT apart from other chatbots is its ability to understand and generate human-like responses to a wide range of questions pertaining to countless topics. It does this by learning from an extensive library of text data, including news articles, books and online forums, allowing it to understand the context of a conversation.
ChatGPT also learns from past interactions, meaning it can adapt its conversation style to a particular user, making it an ideal tool for customer service.
How could you utilize ChatGPT in your business?
Agents, brokers and business owners worldwide are already boasting about the various ways they've utilized ChatGPT in their day-to-day business—from streamlining their social media marketing to lead generation.
Because ChatGPT gathers intelligence from all corners of the internet, you're able to get creative with how you use it. For example, you can ask ChatGPT to:
Write property listing descriptions, open house ads, or sales copy by providing a list of features, statistics and community traits to highlight.
Create captions for social media posts, or blog articles, email newsletters or even video scripts, specifying the type of tone or brand voice you'd like to capture.
Compose quick email or direct message responses to potential leads about particular listings or inquiries.
Make rough calculations about mortgage payments, down payments or renovation estimates, or research permitted uses for certain properties or land zones.
The key is to be as specific as possible when using ChatGPT. Although the chatbot will respond to basic and direct language like "write a listing description for an open house," the more information you provide, the more personalized its response will be.
In this case, you might want to say "write a listing description for a 3-bedroom, 2-bathroom duplex in the city's best school district and make it sound luxurious."
What are ChatGPT's limitations?
At first glance, ChatGPT's technology looks like the ultimate time-saver for real estate professionals. While it may help cut down on some of the administrative work that comes with your business, it is not without its limitations.
The most recent data influencing ChatGPT's intelligence has limited knowledge of the world and events after 2021, which means ChatGPT may be operating on outdated information.
The chatbot is not always accurate when it comes to calculations, meaning it may be useful for approximations, but not for exact numbers. Similarly, some brokers have experimented with using the technology to draft legal documents, but not without their in-house legal team available to vet the product.
Although ChatGPT has impressed many with its quick, conversational copywriting abilities, automating client responses may not be the best tactic since generating leads and closing transactions typically require a personalized approach.
The tool may save you time when writing listings or email responses, but all content generated by ChatGPT should be vetted by you or someone on your team before it's used publicly. Think of ChatGPT's responses as templates that you can customize yourself.
Additionally, as the platform becomes more popular, ChatGPT's servers commonly become overloaded, which at times makes it challenging to access the chatbot's services.
ChatGPT remains free to use for now, but OpenAI just launched ChatGPT Plus, a paid pilot version of the program, in the United States. This paid version costs $20 USD per month and will be launching in additional countries soon.
Have you experimented with ChatGPT for your business? Share this article with an agent or broker who you think might be interested in learning more about the platform.
If you're interested in a more in-depth conversation about ChatGPT and AI uses in real estate, watch a recap below of an exciting discussion with Karen Yolevski, Chief Operating Officer, Royal LePage Real Estate Services Ltd., Brokerage and Keethan Selvarajah, Manager, Technology.