Our user experience is second to none.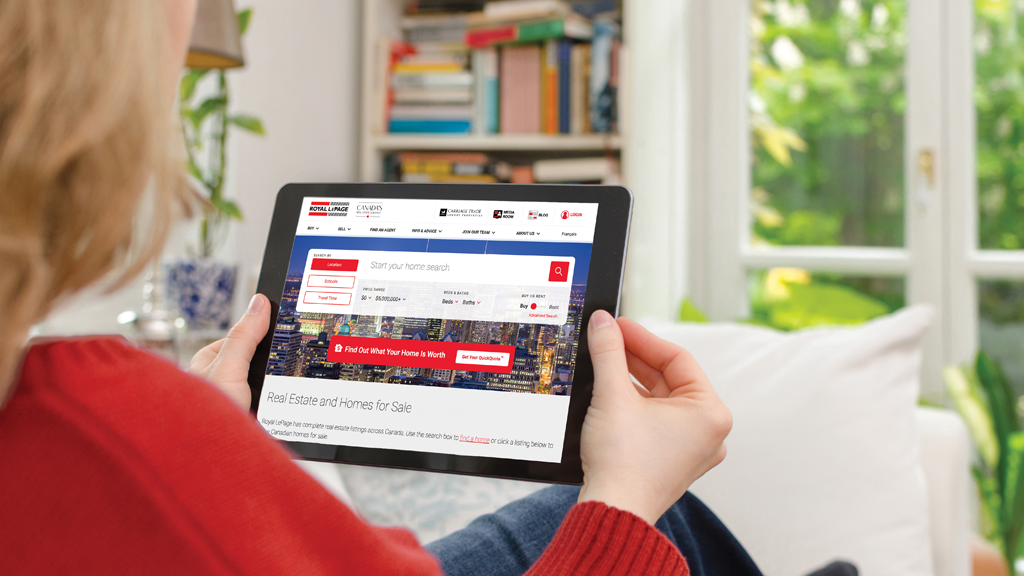 royallepage.ca is Canada's #1 most-trafficked real estate company website—and for good reason.
With over 100 million visits per year, our website is a pivotal tool for Canadians who are looking for their next home, connecting them with the agent best suited to helping them navigate the biggest purchase of their lives. We keep users coming back with multiple features to enhance their home search—and our agents reap the benefits with a steady stream of leads.
So, how do we do it?
Here are 5 ways royallepage.ca sets itself apart:
A user experience like no other. Searching for a home can be stressful. Consumers deserve a seamless online experience that gets them excited about their home search. Which is why we're always looking for new ways to enhance the user experience. For example, we recently launched enhanced emails that include more images and details for new listings, as well as open houses and price reductions. That way our buyers can stay in the know without spending hours stalking the listings they're interested in.
Innovative tech that drives leads. Our property listings are viewed over 20 million times per month, driving more than 400,000 consumer leads to our network every year. And with new features like image recognition technology and the soon-to-be-launched Automated Valuation Model (aka QuickQuote), our investment in technology that drives SEO will attract even more leads.
Highlighting the info consumers really want to know. Our users care about the big picture—what their neighbours will be like, which schools are in their chosen area and whether their prospective neighbourhood fits their lifestyle. Working with our partner Local Logic, we've created a neighbourhood search feature which includes maps for over 90,000 neighbourhoods in Canada. Our custom search features allow consumers to search neighbourhoods based on their desired commute time and mode of transportation. They can also enter their preferred school's name and find properties within the boundaries of the school's catchment area.
Accessible for all Canadians. We've also worked hard to make the website fully compliant for Canadians with disabilities, ensuring image contents have meaningful and descriptive text alternatives and structuring page contents to maximize the use of screen readers and other assistive technologies. Our fully responsive layout also allows for enlarged or zoomed browsing. Plus, we do constant testing to make sure we're ahead of the curve when it comes to accessible technology.
Tips from trusted experts. Our consumer blog is a one-stop-shop for the latest market trends, buying and selling tips and home improvement ideas. Our industry experts cover everything from the latest home price forecasts to house-related tax advice and financial planning. Plus, the content is updated regularly so consumers stay in the know.
What's your favourite royallepage.ca feature? Share this article with someone who would be interested in learning more.
Comscore MMX® Multi-Platform, Total Audience, February 2021 – January 2022, Canada.
Google Analytics Pageviews Feb 2021- Jan 2022
Google Analytics and Royal LePage Smart Leads Systems (February 2021 – January 2022).