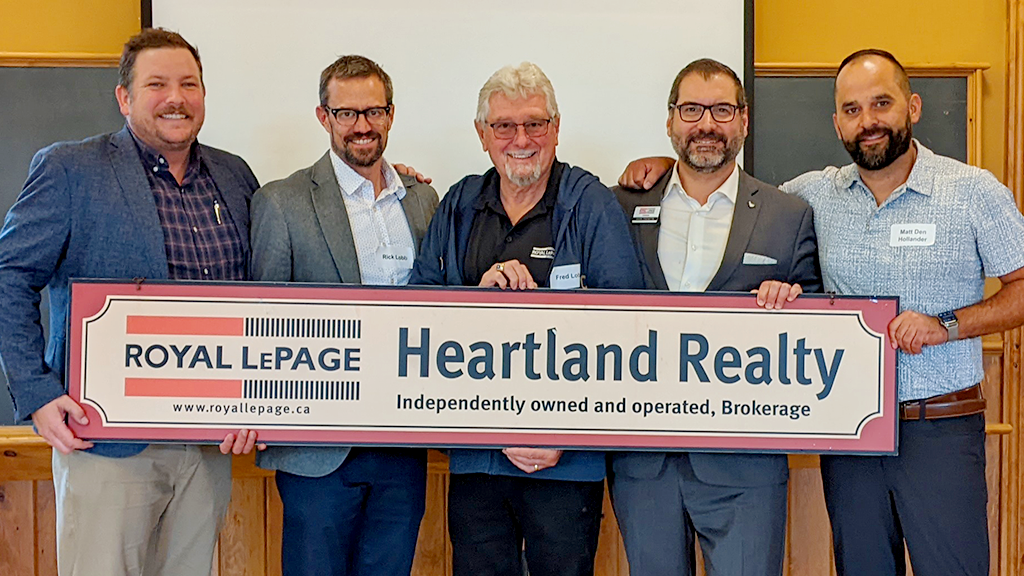 Royal LePage is pleased to announce that Royal LePage Heartland Realty and Realty Executives Platinum have joined forces, with both brokerages now trading under the Royal LePage Heartland Realty banner. Owners Jeff Bauer, Matt Den Hollander, and Rick Lobb will lead the brokerage's team of sales professionals.
Royal LePage Heartland Realty looks forward to welcoming 14 sales representatives to their growing team, with an additional Seaforth location. The brokerage will service the Huron County market (Exeter, Goderich, Seaforth, Clinton, Bayfield, Wingham, Grand Bend) as well as Perth, Bruce, Lambton and Middlesex Counties.
Royal LePage Heartland Realty and Realty Executives Platinum are well-established brokerages with numerous top-performing sales representatives. The merger provides an opportunity to combine the strengths and leadership skills of both brokerages to better serve their sales team as well as their clients. Jeff, Matt and Rick share a similar vision and goals for their business. Their hope for this merger is to provide a superior agent experience while further solidifying their market position as the area's largest and most productive brokerage.
"With the collaboration of excellent, top-performing sales professionals and management, we can better equip everyone under the Royal LePage Heartland banner to have the competitive edge needed in our marketplace," said Matt Den Hollander, former owner of Realty Executives Platinum.
Royal LePage Heartland Realty would like to recognize Fred Lobb, as he opened and grew the brokerage from the beginning. The team is eager to build off of the success Fred has built, specifically with their recruiting and retention efforts.
Royal LePage Heartland Realty now has six locations:
1 Albert Street, Clinton, ON N0M 1L0
33 Hamilton Street, Goderich, ON N7A 1P8
302 Josephine Street, Wingham, ON N0G 2W0
2C The Square Box 56, Bayfield, ON N0M 1G0
417 Main Street South, P.O. Box 1054, Suite A, Exeter, ON N0M 1S7
34 Main Street S. Lower Unit, Seaforth, ON N0K 1W0
Royal LePage extends our very best wishes to the entire Royal LePage Heartland Realty team.