Royal LePage's Services Advisory Council Contributions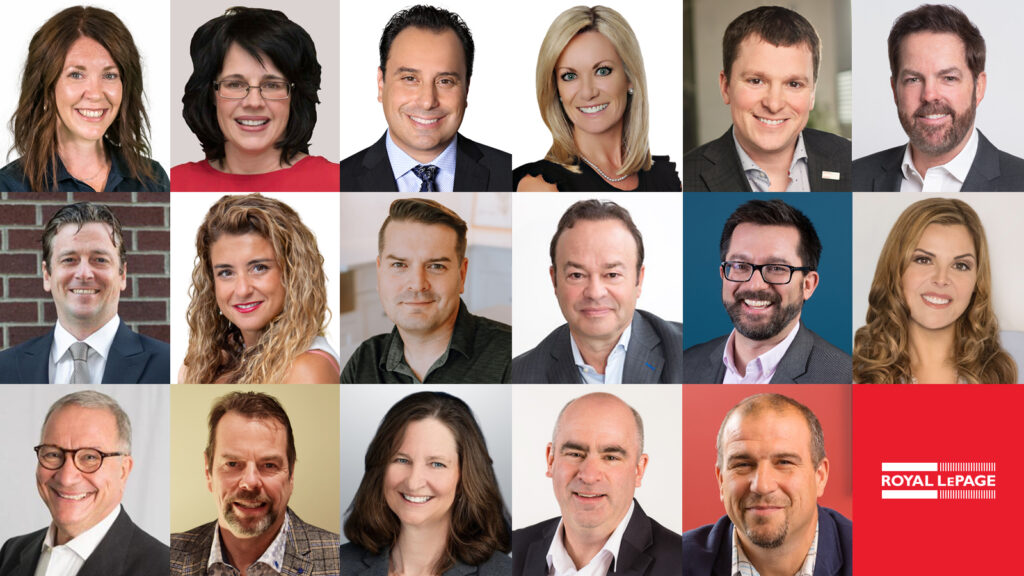 We believe that our extraordinary brand is built upon a network of extraordinary people. People who not only embody our company's mission and uphold our company values, but possess a wealth of knowledge, insights and expertise about our industry. This is why our brokers' feedback is crucial to Royal LePage's success.
We value our strong culture of collaboration and so, we created the Royal LePage Services Advisory Council, to optimize brokerage feedback. This group of leaders are selected to represent our network of 300 franchisees and more than 20,000 agents across Canada.
Fresh perspectives shape the future at Royal LePage
This elected group shape the overall services offering by evaluating new opportunities, influencing the shape of new initiatives, and ensuring that changes being launched throughout the Royal LePage network are managed as seamlessly as possible. The Council also shares best practices implemented at their local levels to bring benefit to the network at large.
Through the collective work done together, Council members create long-lasting relationships with each other and with the senior leadership team at Royal LePage, which carry on long after their term is complete.
"Serving on the Services Advisory Council not only provided the opportunity to help influence the direction of Canada's largest national real estate company, but the connections and friendships I made with other broker/owners from across the country have become invaluable. Being a broker/owner can often be a lonely road, with only a few people to talk with about the unique challenges involved. Exchanging ideas with my peers in the Services Advisory Council has improved my brokerage retention and helped fuel new growth at the local level. I look forward to future opportunities to be a part of the Council again and would recommend it to anyone that asked."
—Sean Burns, Broker/Owner, Royal LePage Coast Capital Realty, BC
The Council meets three times a year and consists of 17 broker/owners and manager-delegates. These leaders represent the network's various regions, markets and brokerage sizes, and are also highly engaged in Royal LePage events and organized real estate. They bring expertise in technology and innovation and offer creative solutions to industry challenges.
"This year marked my second time participating as a member of the Services Advisory Council, and in my 20 years as a broker/owner with Royal LePage, I can't say enough about the experience. The value has been a great return on my time invested. The Council offers an excellent opportunity to network with other broker/owners across the country, while also hearing about exciting things happening at Royal LePage. Having the chance to help direct the services offered to us by Royal LePage goes a long way in demonstrating to my agents that they are with a company who is dedicated to their success. The Services Advisory Council makes us all better!"
—JoAnn Landry, Broker/Owner, Royal LePage Burloak Real Estate Services, Brokerage ON
Fresh perspectives bring in new ideas
While members commit to the council for a two-year term, half of the council changes over each year, so there is both continuity as well as an infusion of new perspectives. Their shared perspectives help forge a stronger community at Royal LePage.
If you are a Royal LePage broker/owner and would like to take advantage of the opportunity to serve on the Council, look out for a call for nominations in late November. It is the perfect chance for you or your manager to represent your brokerage and marketplace.
Interested in joining an organization that values your input? Learn more about Royal LePage's franchise opportunities: betteratroyallepage.ca
Meet our 2022 Royal LePage Services Advisory Council members
First Row:
Gillian Atkinson, Royal LePage Royal City Realty
Shannon Auffrey, Royal LePage Atlantic
Joe Ferrante, Royal LePage State Realty
JoAnn Landry, Royal LePage Burloak Real Estate Services
Christopher Pitman, Royal LePage Benchmark
Darin Perrett, Royal LePage Signature Realty
Second Row:
Laurence Putnam, Royal LePage Sussex
Yasmine Mardelli, Royal LePage du Quartier
Clinton Miller, Royal LePage Parksville-Qualicum Beach Realty
Manny Andrade, Royal LePage Supreme Realty
Tom Shearer, Royal LePage Noralta Real Estate
Karen Yolevski, Royal LePage Real Estate Services Ltd.
Third Row:
Georges Gaucher, Royal LePage Village
Robert Koppert, Royal LePage R.E. Wood Realty
Lindsay Percy, Royal LePage First Contact Realty
Glen Tosh, Royal LePage Martin-Liberty Realty
Nick Vinicombe, Royal LePage Atlantic Homestead
The Best Live Here™!