Stand out in your community by standing up for families in crisis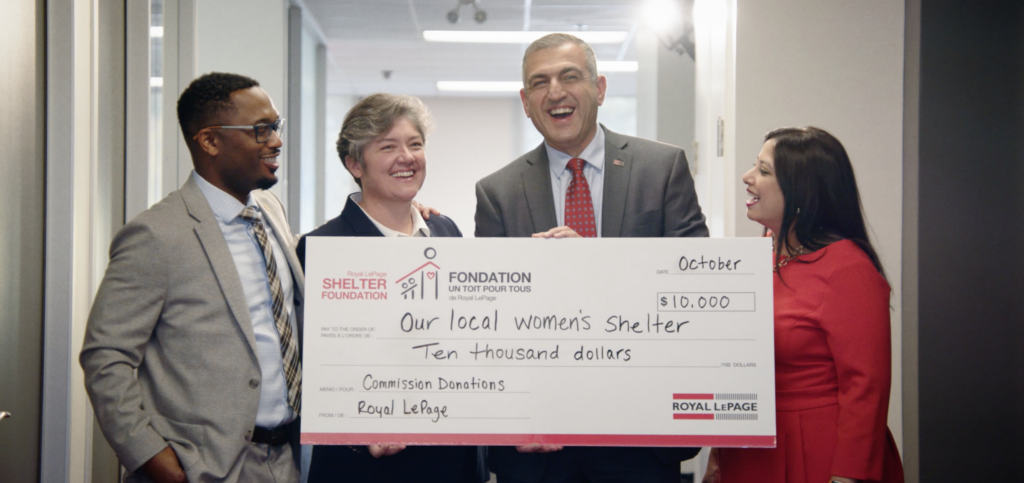 For many, home is a word that evokes feelings of security and comfort. But for the thousands of women and children experiencing domestic violence, "home" often feels the very opposite of safe.
On any given night in Canada, over 3,400 women and 2,700 children sleep at emergency shelters because it isn't safe for them to be at home. Worse yet, about 300 women are turned away from those same shelters every night because they're already full.
Your business has the power to make a difference for families experiencing domestic violence. By donating just a few dollars from every deal, you'll help women and children in your community find safe shelter and rebuild lives that are free from abuse.
The best part? In addition to how good it feels to give back, involvement with the Royal LePage Shelter Foundation will also help strengthen your business and deepen your value proposition for both repeat and new clients. There's no better way to stand out in your community!
Consumers care. Research indicates consumers are four to six times more likely to trust and refer to businesses that support a good cause – especially one that affects families in their own community. In fact, 80% of consumers look to businesses to help them contribute to charitable causes.
Build your brand. Shelter Foundation supporters are encouraged to shout their support from the rooftops! Tell each client you proudly make a donation every time you help someone buy or sell their home. Place the 'Proud Supporter' logo across your suite of marketing materials. Use branded sign riders to draw the attention of those passing your listings. Celebrate when you reach our Top Donor levels or win a prestigious Shelter Award.
Tax deductions add up. Commission donations and other tax-receiptable gifts to the Shelter Foundation are deductible and can be the cornerstone of your annual tax planning. Calculate the "real cost" of a charitable donation in your province here.
Foster careers that have a real impact. By weaving the Shelter Foundation into your business, you'll recruit and retain team members that want to drive real and lasting change in their communities and further align their work with their values.
Are you ready to stand up for women and children seeking safety in your community? Visit giveshelter.ca to sign up as a Royal LePage Shelter Foundation commission donor today!
The Royal LePage Shelter Foundation is Canada's largest public foundation dedicated exclusively to funding women's shelters and domestic violence prevention programs in communities from cost-to-coast. Each year, through the generous support of the Royal LePage family, the Shelter Foundation helps safeguard more than 50,000 women and children. To date, the Foundation has raised more than $38 million, and because Royal LePage Canada covers the administrative costs, 100% of donations go directly to the cause.