Tiffany Adams is a mother, wife, friend, and Royal LePage Atlantic agent. She is also an abuse survivor and former shelter resident.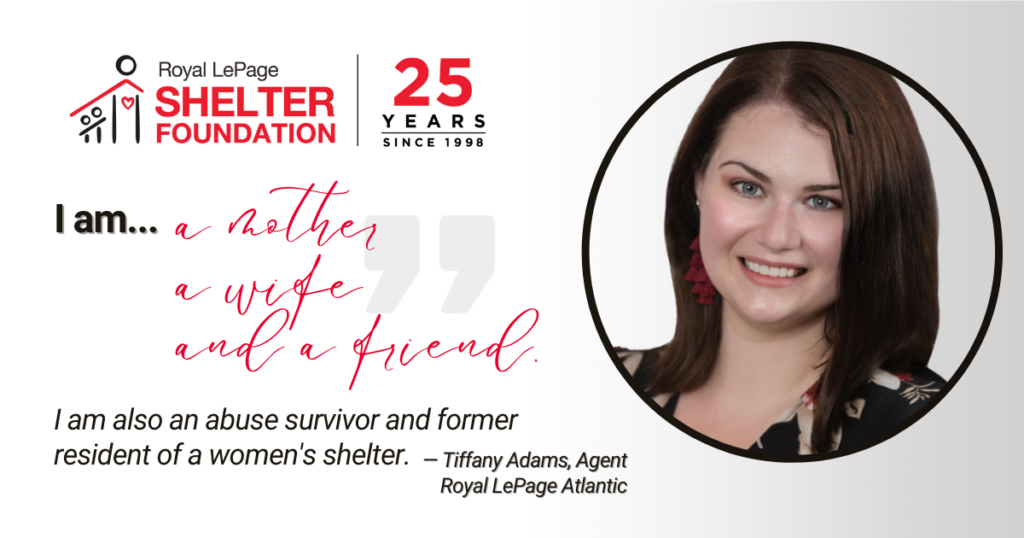 In 2023, the Royal LePage Shelter Foundation is marking its 25th year in operation, during which time tens of thousands of women like Tiffany have experienced the life-saving and life-changing support of a women's shelter. Please read and share this impactful story.
A warning to those who may be sensitive to stories of abuse.
Some of you may know me as a fellow co-worker, Tiffany Adams, a licensed real estate agent with Royal LePage Atlantic in Nova Scotia. However, today I want to speak to you not as a fellow agent, but as someone who has been a direct recipient of Royal LePage Shelter Foundation fundraising. I want to share with you the abuse I experienced and witnessed as a child.
I recognize that my story may be triggering to those who grew up in an abusive household or who themselves have been harmed by an intimate partner. I encourage you to take care when reading my story or to scroll immediately to the bottom of this post, where you can join me in making a difference.
Throughout my mother's eight-year marriage, she was subjected to physical, emotional, mental, sexual and financial abuse at the hands of my now deceased father. I witnessed this abuse, which included starvation, as well as the physical and mental abuse of my younger brothers. Needless to say, I too was badly harmed by my father's abuse.
I vividly recall the night before our escape. I heard my father screaming at my mother that he was going to kill her. She came into my room and that of my brothers and told us not to leave our rooms, that she loved us and was proud of us and told us goodbye. I recall following her out to the top of the staircase and begging her not to go. I was 8 years old then. I am 33 years old today, and that goodbye is the hardest memory that still haunts me and in my darkest moments. I am still that little girl at the top of the staircase.
I shudder to think about what would have become of us all had we not found our way to a women's shelter. At the time, ours was deemed one of the worst domestic violence cases to be seen in Canada. Police protection and name changes were offered after my father admitted that he would kill my mother and brothers if given the chance and that I would have been groomed for further abuse.
Immediately upon arriving at the shelter, my mother was able to seek out legal aid, and with the help of a dedicated shelter staff member, she gained full custody of her children. My mother was also compassionately cared for through the multiple surgeries she required as a result of the years of abuse she suffered. On top of the incredible support and security that the shelter provided, they also helped set us up for a life beyond the safety of their walls. The shelter gave us hope that better days were ahead. This foundation of support has only grown stronger over the years and I owe my freedom to the shelter.
There are two main reasons why I am able to thrive as a woman, mother, friend, wife and business owner. I am here because I have a mother who is stronger than anyone I know and because of the support of the women's shelter that welcomed my family with open arms. This very same shelter continues to provide a lifeline to families fleeing violence to this day, in part through donations from the Royal LePage Shelter Foundation and supporters like you.
When you choose to enter the Sweepstakes for Shelter, not only will you have the chance to win the Grand Prize of $25,000 cash, but a $2,500 donation will also be made to a women's shelter just like the one that helped me and my mom. Net proceeds raised from the Sweepstakes for Shelter will be directed to helplines for women experiencing intimate partner violence across Canada. Funding these critical services helps more women leave abusive situations safely when the risk that they will be killed is the highest.
When you get your tickets before 11:59pm EST on May 30 at sweepsforshelter.ca, you will also be entered into 3 Early Bird Prizes, each featuring a prize of $250 cash and a $250 donation to the winner's local women's shelter. 
Please consider supporting this worthwhile cause today. The impact is truly life-saving and is why I am able to write to share this with you today.
Signed Tiffany