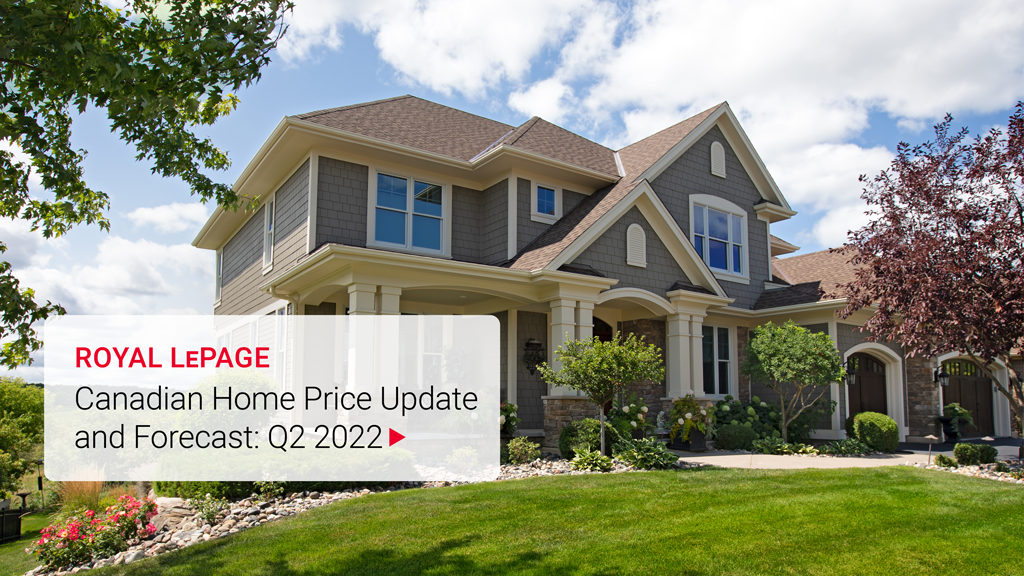 The Royal LePage House Price Update and Market Forecast, distributed each quarter, includes price data and insights from experts in 62 real estate markets across the country, as well as national and regional forecasts.
According to the survey, the aggregate* price of a home in Canada increased 12.1 per cent year-over-year to $815,000 in the second quarter of 2022. On a quarterly basis, the aggregate price of a home in Canada decreased 4.9 per cent in the second quarter after reaching record year-over-year highs in Q1. This is reflective of softening home prices in markets that saw exceptional price growth during the pandemic.
Key highlights from the release include:
Royal LePage reduces national home price forecast to +5.0% in fourth quarter of 2022; expects home prices to hold relatively flat through the second half of the year in greater regions of Toronto and Vancouver. Greater Montreal Area expected to see continued price appreciation.
National aggregate home price increases 12.1% year-over-year in second quarter of 2022; decreases 4.9% quarter-over-quarter.
An uneven market recovery is expected as some regions experience continued price appreciation, while others soften.
Interprovincial migration to affordable real estate markets supports home price growth in Alberta, Prairies and Atlantic Canada.
Royal LePage cautions policy makers that growing inventory is masking an acute urgency to solve Canada's housing supply crisis.
*Aggregate prices are calculated using a weighted average of the median values of all housing types collected. Data is provided by RPS Real Property Solutions and includes both resale and new build.