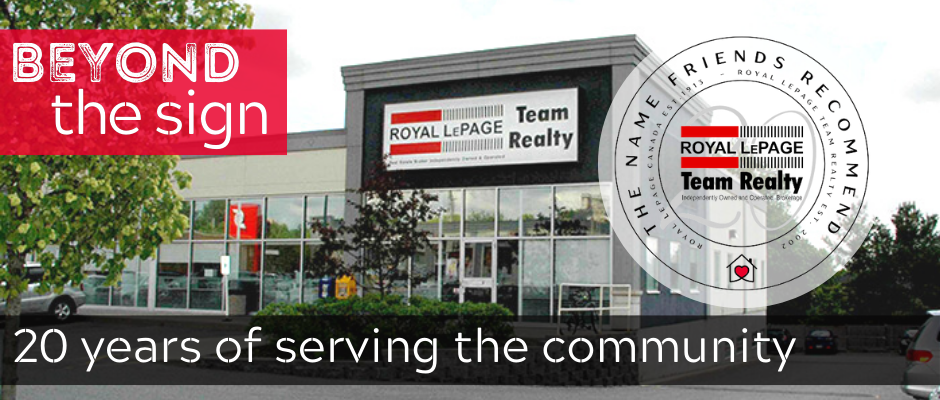 Royal LePage Team Realty, located in Ottawa, Ontario, is celebrating 20 years of serving the Ottawa area and surrounding communities. The award-winning brokerage has grown to become a well-established and successful business, with 20 brick-and-mortar offices and seven satellite offices that serve Ottawa and the Valley from Algonquin Park to Central Ottawa and Iroquois, with over 560 licensed full-service REALTORS®.
Founder and Broker Kent Browne attributes the business' ongoing success to their talented and well-trained sales professionals who are truly dedicated to their trade, helping families all across the city buy and sell their homes.
Throughout the last two decades, Royal LePage Team Realty has acquired a number of brokerages to build the strong team they have today. This includes Royal LePage Gale Real Estate, Prudential Realty and Royal LePage O'Neil.
Kent Browne, along with partners Jason Ralph, Frank Gray and Andrew Wildeboer have helped to build the brokerage to new heights, and have been consistently recognized as industry leaders with numerous awards and accolades to the brokerage's name. Kent Browne has been recognized with the prestigious Royal LePage Canada Provincial Individual Shelter Foundation Award (2010), as well as the United Way Community Builder Award, both recognizing his philanthropic efforts and dedication to the community. Royal LePage Team Realty has also been awarded the Ottawa Consumer Choice Award in Real Estate (2013), and was named the A.E. LePage National Brokerage of the Year (2015).
Royal LePage Team Realty is strongly committed to giving back to the communities in which they serve, having raised over $1.8 million in support of the Royal LePage Shelter Foundation, giving back to numerous women's shelters in the Ottawa area. The team's annual "Denim Tuesday Auction" in support of cancer research in Ottawa is a great success, having raised $660,000 to date. An Ultrasound Room in The Rose Ages Breast Health Centre at The Ottawa Hospital was also named after them for their support and generosity.
The brokerage is continuing on its path of growth along with the city. Since 2002, they have helped over 150,000 people buy, sell or lease real estate. Royal LePage Team Realty's ongoing commitment and dedication to quality service, along with their continuous community support and charitable efforts is what makes them stand out in the nation's capital.
Royal LePage extends a hearty congratulations to the Royal LePage Team Realty group on 20 years of service excellence!
Read more about Royal LePage Team Realty in CityNews Ottawa.
*The trademarks REALTOR®, REALTORS® and the REALTOR® logo are controlled by The Canadian Real Estate Association (CREA) and identify real estate professionals who are members of CREA.