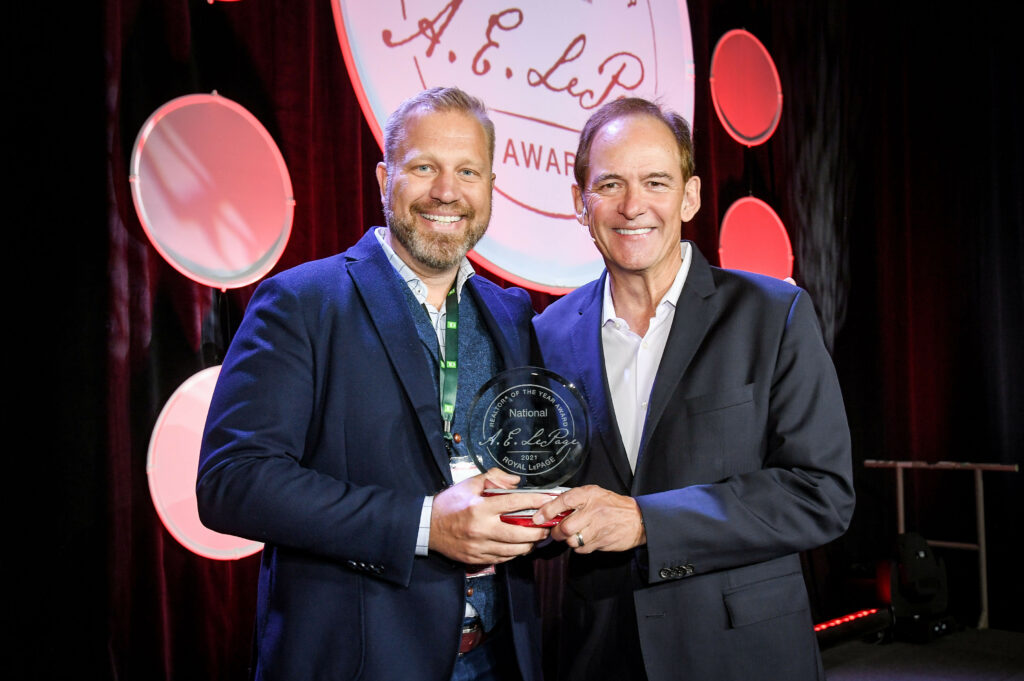 Royal LePage is pleased to announce the winner of the 2021 National A.E. LePage REALTOR® of the Year award, Mike Heddle from Royal LePage State Realty in Hamilton, ON.
"To me, the A. E. LePage REALTOR® of the YEAR award is an acknowledgment industry and peer review, and I consider myself fortunate to be an industry and professional contributor to this great brand. As a recipient of this prestigious award, I find myself amongst past recipients, who are some of my most admired and respected colleagues. I am truly honoured to continue to be a brand ambassador for Canada's largest and BEST real estate company, Royal LePage. For those that know me, know I jump at every opportunity I get to showcase my patriotism towards Canada's real estate company, this is my tribe," said Mike.
Mike is a consummate professional who consistently shares knowledge, expertise and resources with those he works with. He is a leader of people, who has successfully and built a large, high-performance team. He is a true representation of the values Royal LePage stands by, and continues to represent the brand in all of the great work he has done.
Mike is a mentor to his industry peers, offering guidance and experience that is truly valued by his colleagues. He also frequently offers his advice as a guest speaker for Royal LePage brokerages and coaches, and is a valued spokesperson for Royal LePage's media relations program.
His commitment to giving back to his community is a true testament to his generous character. A strong supporter of the Royal LePage Shelter Foundation, he has raised significant funds for the cause, participating in the Purcell Mountains Challenge for Shelter Trek last summer, in addition to his ongoing contributions to the Foundation and its initiatives.
He is also a distinguished member of the National Chairman's Club as a true professional and top producer, providing the highest quality service to the clients he serves. Congratulations, Mike!
The National A.E. LePage REALTOR® of the Year award winner is selected based on sales productivity as well as leadership within their brokerage, the company and the industry. Winners are recognized for their involvement in the community and our wonderful charity, the Royal LePage Shelter Foundation. And finally, their commitment – through their words and their actions – to being an ambassador of the Royal LePage brand.