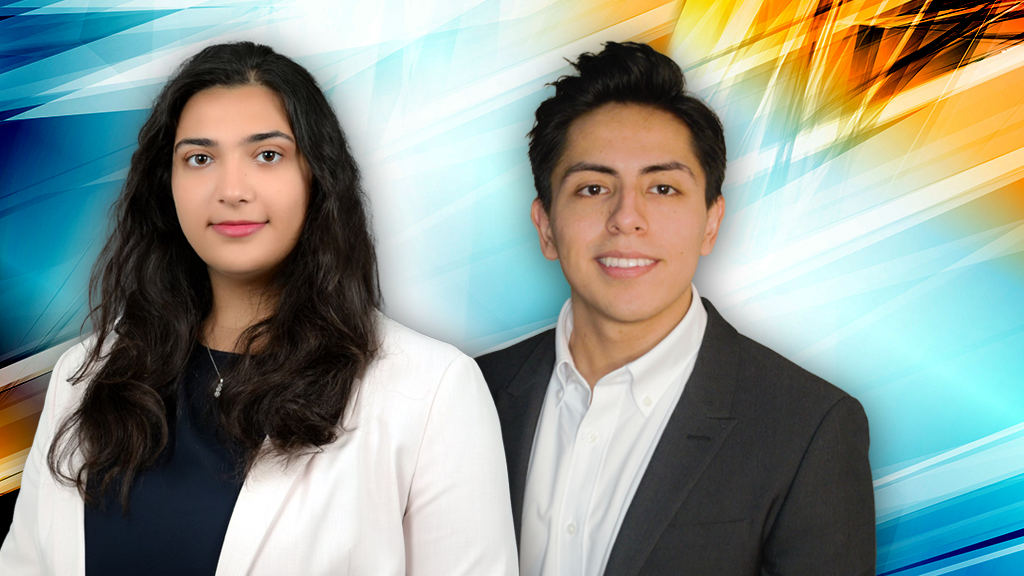 Toronto Metropolitan University (TMU) recently announced the 2022 winners of two Royal LePage scholarships, the Royal LePage Award and Royal LePage Leadership Award, at the university's Ted Rogers School of Management (TRSM).
As a leader in Canadian real estate, Royal LePage is dedicated to supporting educational programs that empower up and coming real estate professionals, innovators, entrepreneurs and technologists.
The 2022 winners of these notable awards are fifth-year business technology management student Zahra Adelzadeh, recipient of the Royal LePage Award, and third-year real estate management student Cristian Andres Vanegas, recipient of the Royal LePage Leadership Award. Enrolled in TRSM's Top 200 program, Adelzadeh is a case competition enthusiast with a growing skill set in analytics and research. In addition to his major, Vanegas is pursuing a double minor in finance entrepreneurship and innovation, and is working towards his candidacy at the Appraisal Institute of Canada to obtain AACI designation.
"I applaud Zahra and Cristian for their hard work and dedication, and congratulate them on their well-deserved recognition with these Royal LePage awards," said Phil Soper, president and CEO of Royal LePage. "Royal LePage is proud to support the development and growth of TRSM's real estate program, so that passionate students can be guided on their path to a successful career in one of Canada's most dynamic and exciting industries. Students today become the leaders of tomorrow, and we feel that it is important to give future business professionals the tools they need to succeed."
TMU's Royal LePage scholarships are awarded to students enrolled at TRSM who have demonstrated leadership in the university and the broader community. Other considerations include academic excellence, financial need and racial diversity. TRSM at TMU is one of a select few post-secondary schools in Canada that offers a degree program in real estate studies.
Phil Soper is actively involved with TRSM as a Dean's Circle member, alongside other notable business leaders. TMU has previously awarded Soper with the inaugural G.Raymond Outstanding Volunteer Award for his contributions to the school and its community.